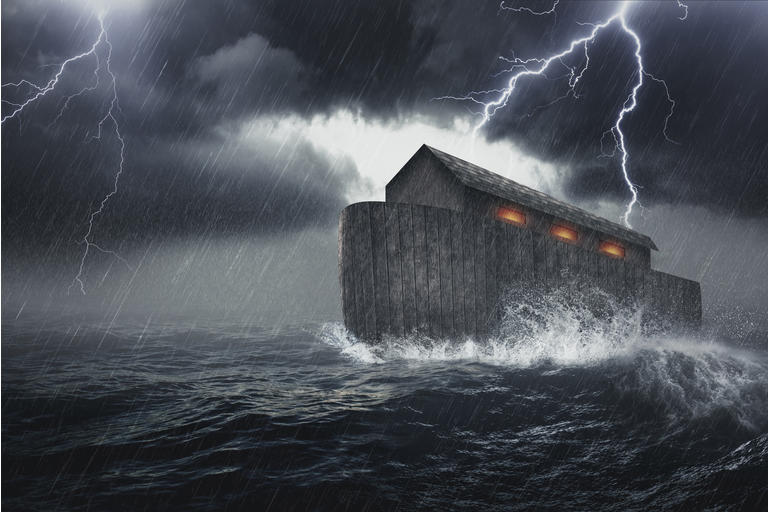 The ARK Innovation ETF (ARKK) is off to a rough start in 2022. Down 6.91% year-to-date as of this writing, it's really taking a beating. 2021 was one of the fund's worst years ever, as it under-performed the NASDAQ by a wide margin. Last year, some of the sheen came off the "COVID-19 winner" stocks that Cathie Wood invested heavily in, leading to major losses. Even with Tesla (TSLA) rallying 49% in 2021, ARKK still fell 33%. That fact speaks to a true bloodbath in ARKK's less well publicized holdings, some of which truly got hammered. Stocks like Peloton Interactive (PTON) fell 80% top to bottom, due to investors pivoting to value stocks and dumping growth stocks.
The trends that have taken ARKK lower appear poised to continue. Rising interest rates, inflated valuations and the waning of the pandemic have all been cited as headwinds for growth stocks. Two of these trends remain, one is currently being interrupted but could resume shortly. Interest rates are rising, the NASDAQ remains pricey, and COVID-19, though currently raging, is gradually being chipped away at by vaccines. Given that the ARKK portfolio mostly consists of high growth names, and quite a few "COVID winner" stocks, the prevailing trends are still against it.
That's not to say that the ARK Innovation ETF can't turn around. It is possible to stay within the fund's "innovation" mandate while pivoting to less rate sensitive value names. There are plenty of "innovator" stocks that can thrive in today's market, notably Chinese stocks like Alibaba (BABA) and Tencent (OTCPK:TCEHY), which are starting off the year on a high note. Such stocks trade at low multiples compared to U.S. tech stocks, and are less sensitive to U.S. interest rate policy. These Chinese plays, along with some U.S. tech names like Micron Technology (MU), have adequate margins of safety that should help them defy the general weakness in growth stocks. Cathie Wood actually dabbled in some Chinese stocks last year, but got out when she deemed the regulatory risk to be too great. Her timing on the China exit was pretty good, but as of 2022, she is underperforming the Hang Seng Index and the S&P 500.
It's beginning to look like a pivot to "value tech stocks" would have been a good one for ARKK. Perhaps, the fund's managers will decide to do so, but they haven't yet. According to Cathiesark.com (a portfolio tracker that is more up-to-date than the ARKK fact sheet), the fund is still heavily weighted in Tesla, Teladoc Health (TDOC), Roku (ROKU) and other pricey names. Much of this stuff is due for a correction. Accordingly, I will outline a bearish thesis on ARKK in this article, starting with the macro situation and then moving on to a review of some of ARK's top holdings. First, though, I'll look at the competition, so we can see what alternatives to ARKK are available and how the fund stacks up compared to them.
Competing Funds
Before evaluating ARKK's own holdings, it helps to look at funds it competes with, so investors can see what the alternatives are. It's one thing to say that ARKK is doing poorly this year, but quite another to say that it's underperforming its benchmark. So, we need to look at what the alternatives to ARKK for tech-hungry investors are.
First, we can look at ARKK's benchmark:
The NASDAQ-100. This is represented by the Invesco QQQ Trust (QQQ) ETF. Like ARKK, the QQQ is currently down for the year. However, its underperformance has been less than ARKK's. As the chart below shows, QQQ has performed worse than the S&P 500 over the past week, but not nearly as poorly as ARKK has. I've attached a second chart below it showing the one-year performance, a comparison that also looks bad for ARKK.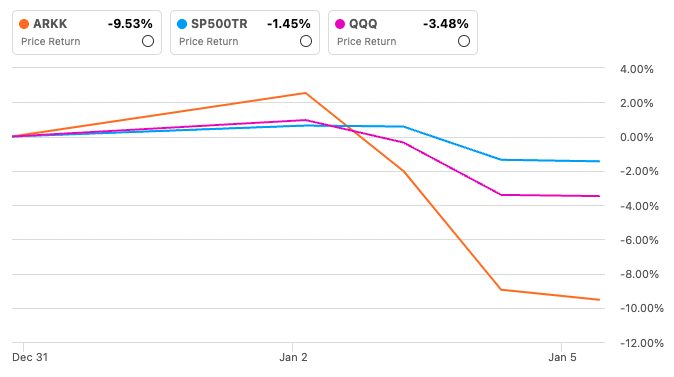 Source: Seeking Alpha Quant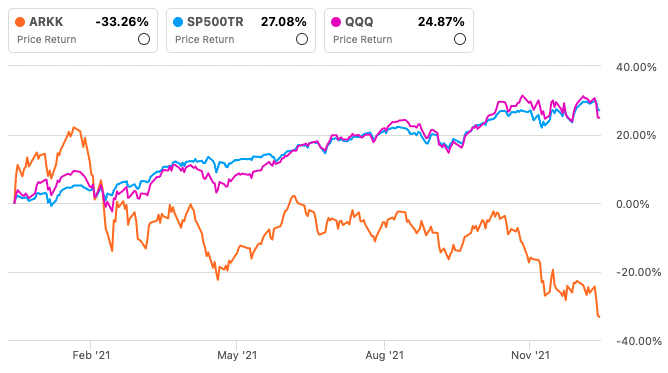 Source: Seeking Alpha Quant
As you can see, ARKK is underperforming QQQ, its benchmark and arguably its competitor. If you look at Invesco's QQQ ads, you will see that they heavily play up the innovation angle, much like ARKK does. The two funds differ in their management style: one is an active fund, the other is passive. But they are both funds heavily concentrated in innovative tech companies, and QQQ is the clear winner over YTD and 1-year timeframes. QQQ also wins on:
Fees (it costs 0.2% of NAV for QQQ, vs. 0.75% for ARKK).

Liquidity (QQQ had a 0.00% spread as of Friday, ARKK a 0.03% spread).

Diversification (QQQ has 102 stocks vs. ARKK's 44).
So QQQ looks like a clear winner over ARKK with respect to many characteristics ETF investors look for. With that said, it's not the most direct competitor. QQQ is a passive fund, ARKK an active fund. They're very different things. So, it pays to look at a few of ARKK's actively managed competitors to see how it stacks up compared to them.
First off, we have the Vanguard Information Technology Index Fund (VGT). This is an IT fund with a rock bottom 0.1% fee. That's quite low even compared to many passive funds. It does appear that VGT has some "closet indexing" going on, as its holdings closely resemble QQQ's. Still, its fees and bid ask spread (0.02%) beat ARKK's, and it has outperformed ARKK year-to-date.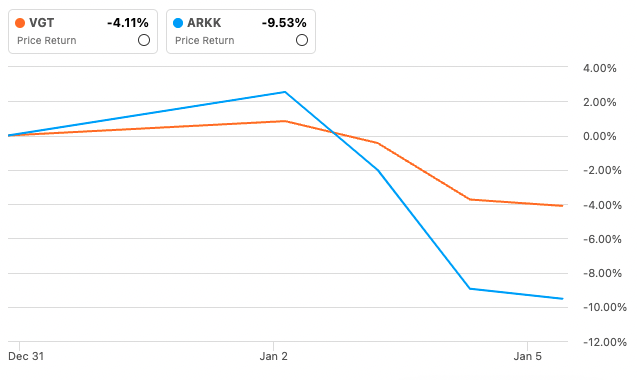 Next up we have the iShares Evolved U.S. Technology ETF (IETC). This is another actively managed tech fund that holds a lot of large cap tech. Like VGT, it has a lot more large caps than ARKK does, but it's similar in that its investment objective is to provide exposure to innovative tech. IETC is much cheaper than ARKK, with a 0.18% MER, and has outperformed the latter year-to-date.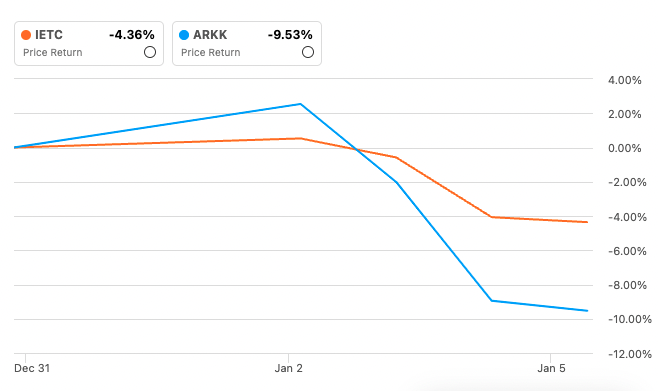 So, the big theme here is that ARKK's competitor funds:
Have lower fees.

Have tighter bid-ask spreads.

Are outperforming year-to-date, and over the last 12 months.
So far, it's not looking good for the ARK Innovation ETF. But if we pull back to a longer term timeframe, we see that ARKK is still beating the NASDAQ-100.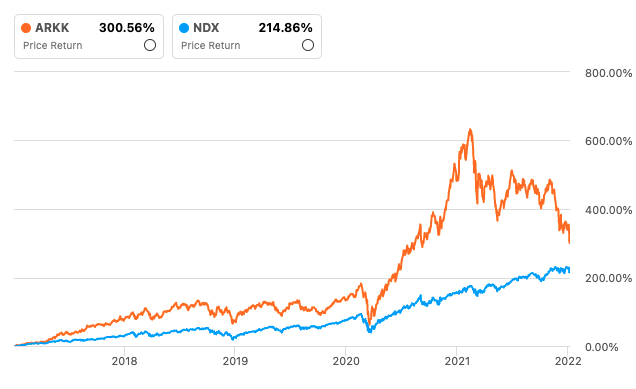 So the fund is a winner since inception. In order to say that it's not a good buy, we need some reason to believe it will perform worse in the future than it has in the past. In the next section, I will supply some reasons to believe that it will indeed perform worse going forward.
Macro Environment Doesn't Favor Ark
One of the big reasons to believe that ARK won't do as well in the future as in the past, is that the macro environment doesn't favor it. When I refer to the "macro environment," I'm primarily referring to two things:
The first of these macro factors makes high-risk growth less appealing, while the latter makes non-tech stocks more attractive.
First, let's look at interest rates. Recently, the majority of Federal Reserve members indicated they supported three interest rate hikes for 2022, taking us to 0.5% later this year. The "longer run" policy rate with the most support was 2.5%.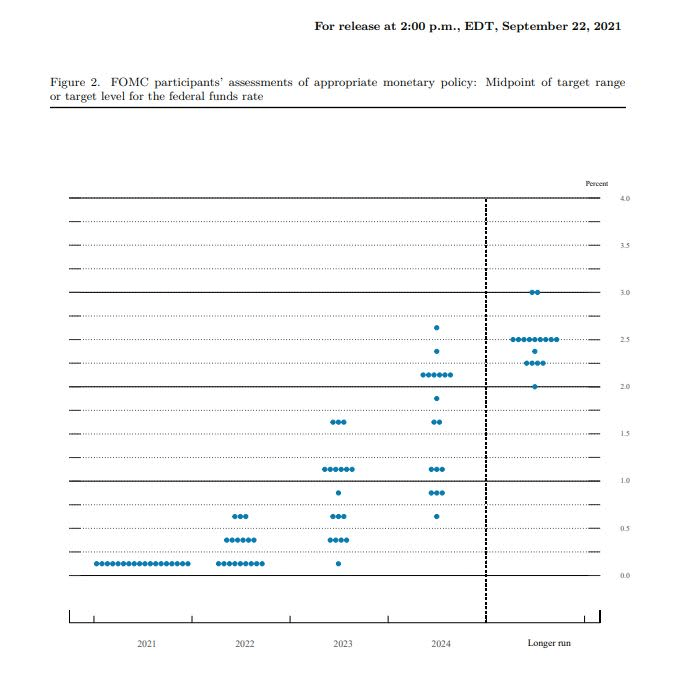 Source: The Federal Reserve
Generally, higher interest rates are bad for growth stocks because they make growing profits less attractive. When you can get more returns risk free, why gamble on growth that isn't a sure thing? In the most extreme case, you can get interest rates that exceed the earnings growth on even the fastest-growing companies. For example, Argentina recently hiked its policy rate to 40%. If you can get that much return "risk free," then there is little incentive to take on huge risks for growth. So growth stocks like ARKK holdings tend to go down when interest rates are rising. Now, nobody seriously thinks that U.S. interest rates are going into the double digits, let alone 40%. But the higher interest rates go, the lower the discounted cash flows of risky stocks go, all other things the same.
Second, we have the economic recovery from COVID-19. That might sound like a comical thing to mention now that we're in the midst of the Omicron spread, with lockdowns sweeping the world. But broadly, we are seeing significant progress in fighting the pandemic. About 68% of the U.S. population is vaccinated, and Joe Biden has pledged no federal lockdown orders. Given these facts, it seems unlikely that a March-2020 style economic shutdown is coming.
When you put it all together it appears quite probable that ARKK's top holdings will underperform. Most of ARKK's holdings are tech stocks, and tech stocks were mostly immune to the pandemic's worst effects. The NASDAQ as a whole recovered from the March 2020 market crash by June of that year, later setting multiple all-time highs. In the final three quarters of 2020, ARK-favourite Shopify (SHOP) posted three quarters in a row of 90% revenue growth. Work from home stocks like Zoom Video Communications (ZM) rallied, as investors anticipated they would make money from all the workers suddenly doing meetings from their computers.
So innovative tech stocks got a big boost from the pandemic. The problem is that now, the waning of the pandemic is making them look unjustifiably pricey. The big tech companies grew earnings a lot in 2020, but they experienced multiple expansion as well. Meanwhile, value stocks got more and more attractive. Even after rallying 35% in the trailing 12 month period, U.S. banks still have P/E multiples in the low teens. And while they don't have the kind of growth potential that young startups have, they can sometimes earn higher profit margins in high rate environments. So value plays like banks are starting to look more attractive, while innovator stocks are starting to look less attractive.
A Brief Look at Top ARKK Holdings
Before concluding this article, I want to take a quick look at the key metrics of some of ARK's top holdings. A complete analysis of every single stock in the fund would be impossible, but a look at key metrics will reveal the general trend of the fund's holdings. Broadly speaking, the fund's holdings are growing rapidly, but they trade at high multiples and are not always profitable. Some select metrics, courtesy of Seeking Alpha Quant, are shown below:
| | | | | | | |
| --- | --- | --- | --- | --- | --- | --- |
| | P/E | Price/sales | Price/book | Revenue growth (TTM) | EPS growth (TTM) | Profitable in ttm period? |
| Tesla | 211 | 22 | 39 | 66% | 485% | |
| Zoom | 35 | 13 | 10 | 99% | 162% | |
| Roku | 95 | 9.3 | 10 | 65% | N/A (negative earnings in prior year) | |
| Teladoc Health | N/A | 6.55 | 0.82 | 114% | None (negative earnings) | |
| Coinbase Global (COIN) | 17.6 (based on GAAP earnings) | 5.6 | 9.3 | 626% | 2,850% | |
As you can see, all of these stocks have extremely high revenue growth rates. However:
Tesla and Roku both trade at extraordinarily high earnings multiples.

Teladoc isn't profitable.
These qualities – high valuations and unprofitability – aren't attractive in higher rate environments. They imply that you're paying a lot for whatever underlying earnings you get, and that makes less and less sense the higher the risk-free rate goes. The two other holdings on the list, Zoom and Coinbase, admittedly have some pretty attractive metrics. Zoom's 35 earnings multiple isn't unreasonable for a company that's nearly tripling earnings, and Coinbase's GAAP multiple is actually very low.
However, both of these stocks have factors that call into question whether the gains can continue. Zoom is a work-from-home stock that might slow down after workers return to the office – its earnings growth decelerated to 35% in the most recent quarter. Coinbase, meanwhile, is a crypto stock whose transaction fees go lower when the price of crypto goes down. While COIN's ttm revenue growth rate looks amazing, revenue in the most recent quarter actually declined sequentially. Clearly, the declining price of Bitcoin weighed on it.
Putting all of this together, we've got a collection of expensive growth stocks that are not always profitable, and whose growth is now decelerating. In an ultra-low rate environment where only tech companies can operate normally, investors will tolerate that kind of thing. But in a rising rate environment where financials and foreign stocks remain cheap and poised for growth? You can forget about it. Times have changed, and ARKK's strategy is dead.