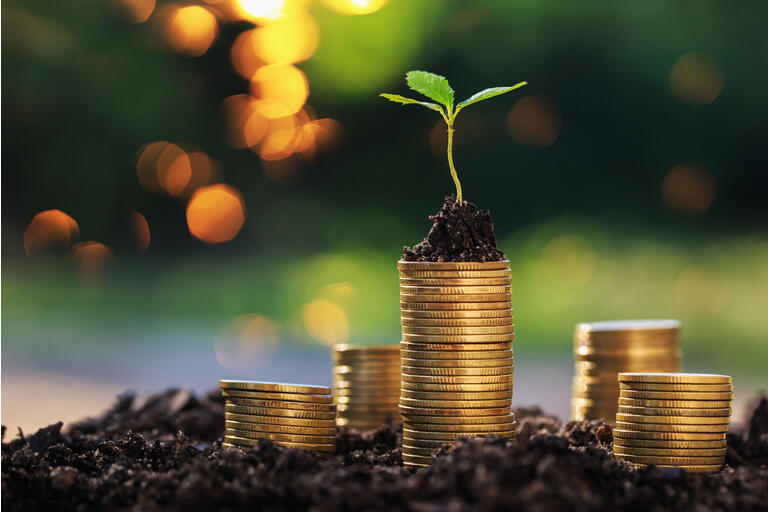 2021 was another year where investors were spoiled. We were blessed with solid gains for the third year in a row. When this streak ends, nobody knows. That being said, I would temper expectations heading into 2022. After such large runs, it would seem apparent that we need earnings to catch up with valuations.
Below are the returns of the indexes over the last 3 years. The Nasdaq 100 Index certainly being in a league of its own as the tech sector was the place to be.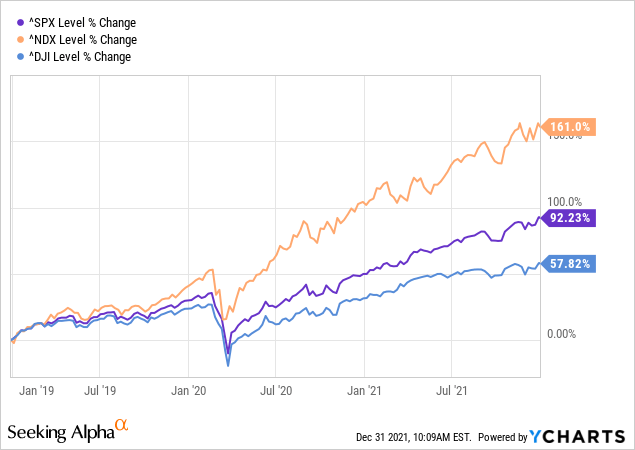 Though tech had been a strong leader in appreciation over the last three years. 2021 saw the sector dethroned as energy led the way. Of course, that was after two years where energy was the worst-performing sector. Not even by a little bit either, at the time of writing, the last 3-year returns for energy were negative as represented by the Energy Select Sector SPDR ETF (XLE).
With that, some snapback of the sector seemed almost inevitable at some point. Real estate was also another strong contender for the year. Utilities and consumer staples were the laggards and could represent interesting choices to put additional capital to work as we enter 2022.
I look for opportunities to invest some capital every month. Some months it includes putting more dollars to work than others when the market provides us with dips or corrections. 2021 was very slim on the side of the dip and had no corrections that would be represented by a 10% decline from peak to trough. Putting capital to work every month means my income is typically growing every single quarter. That certainly played out through 2021 as many of my largest positions boosted distributions.
A key theme to my buys in December was all about valuations. That isn't too unusual. Closed-end funds trade at discounts and premiums as inefficient market vehicles, with mostly retail investors dictating the prices. However, it was even more apparent with my buying in December. I put capital to work across a few names that have been beaten up lately regarding their share price returns, while the NAV per share has been relatively stable. That has opened up some strong choices as it seems tax-loss selling accelerated some of these declines.
BlackRock Innovation & Growth Trust (BIGZ)
BIGZ has probably been one of the bigger letdowns of the year. However, it isn't too much that could be avoided as it was one of the market areas that hadn't worked well. I went much more in-depth recently on this fund, so I won't reiterate every point I made then. I'll just touch on the key points here.
The fund invests in smaller cap and private innovative growth names. This is a higher-risk name, and there is no way to know if the pain is over for the trade. We know that the fund is certainly in a correction and its discount has become incredibly attractive.
We can see that ARK Innovation ETF (ARKK) has performed similarly to BIGZ since the March 2021 launch of the fund. ARKK is a representation of the innovation space.
Additionally, I included BlackRock Future Innovators ETF (BFTR). The reason for this is because it is another similar fund. Though it is tiny and volume is quite lacking, it also doesn't pay a distribution as BIGZ does. That being said, we can see that BFTR performed much better, relatively speaking. Though still some sizeable losses in an otherwise strong year for other assets.
At the same time, BIGZ and BFTR have considerable overlap. We can use it as an almost proxy for an intra-day NAV indicator of BIGZ. That's where the low volume sort of ruins it, though if it had higher volume, it would be an even better indicator.
That being said, BFTR's performance is much more similar to BIGZ's NAV rather than its share price going back the last six months. We can't go back to inception because BIGZ was still getting its capital put to work.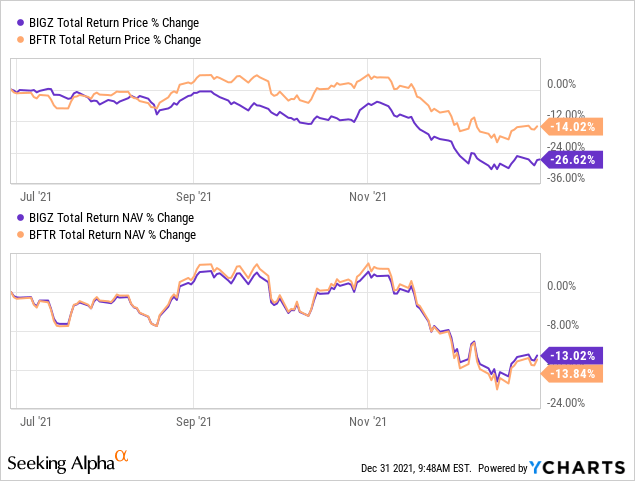 As closed-end fund investors will know, that type of price action between the price and NAV means we are getting an opportunity. That opportunity comes in the form of a discount. In this case, a substantial discount at over 15.5% at one point. Certainly, a long drop from nearly 14.5% premium the fund had popped to shortly after launch.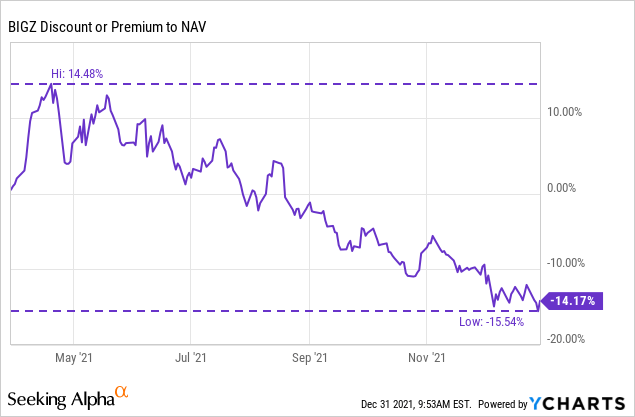 With this drop and rapid sell-off in November through December, I lowered my cost basis. Even after I mentioned not wanting to add any more tech to my portfolio. The fact is that this fund, as well as some of the other tech plays, had dropped enough to make more room.
Those that follow me might recall that I also added to this position in October. At that time, the NAV was at $19.98. Its inception NAV was at $20, and considering that they had paid out $0.50 to shareholders – they were actually in positive territory.
That helps show just how rapid the decline came for the fund. The NAV now sits at $16.80 at the time of writing on 12/31/2021. They've also paid out a couple more distributions in that time, which only helps negate some of that decline further. A distribution trim is undoubtedly on the table, so I wouldn't rule that out as a risk for potentially further downside from here. It is a long-term hold, and I plan to hold until its term.
DoubleLine Yield Opportunities Fund (DLY)
DLY hasn't had quite the spectacular year that many other market assets and sectors enjoyed. On a total-return basis, the returns were still positive, but a lot of the price returns have been under pressure as of late. That isn't too surprising as the fund's share price had outpaced its NAV considerably throughout the year.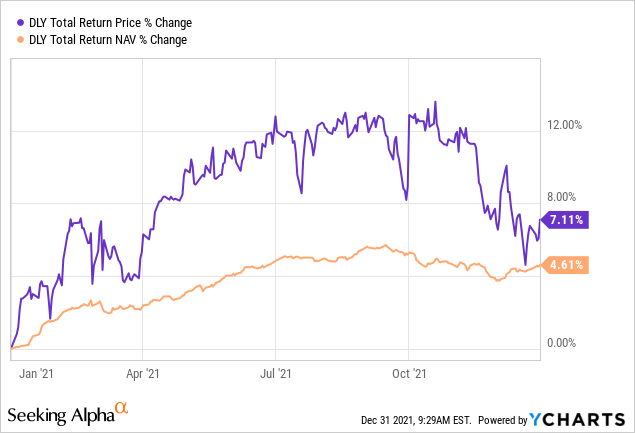 This price action led the fund to narrow its discount quite considerably throughout the year, with the latest movements bringing it back out to a wider and more attractive level.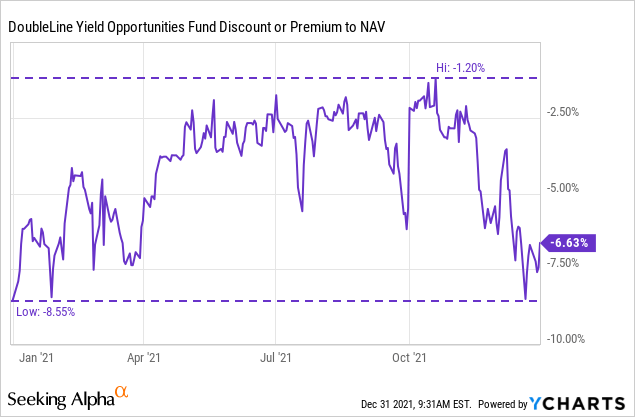 I initially started a position earlier this year. It turned out to be too early, but I was happy to add in December to lower my cost basis. I recently went more in-depth on DLY in a recent article. The discount has narrowed back from the over 8% that it recently touched, but I believe it still represents a reasonably attractive valuation.
Cohen & Steers Tax-Advantaged Preferred Securities & Income Fund (PTA)
PTA is the best value in the preferred space at the moment. This is a newer fund that had sold off along with its NAV for a period of time. However, after the NAV quit sliding, the share price continued to slide. This is common with CEFs, as most CEF investors know. It generally opens up opportunities.
PTA is a newer fund to the preferred space, which likely caused some jitters for investors. It could have also been a candidate for tax-loss selling. After all, it certainly was a strong year of gains for many other areas of the market.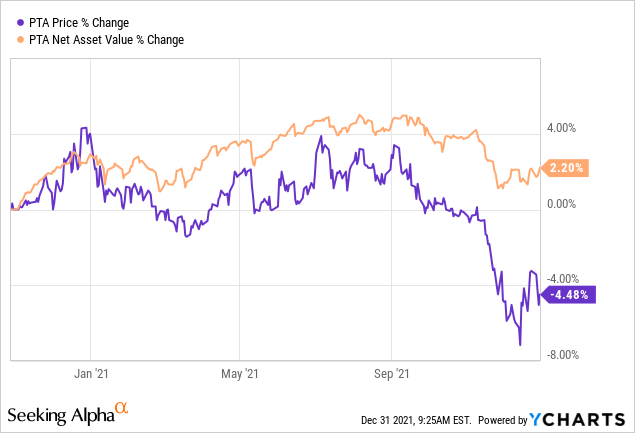 As we can see above, the NAV of the fund has increased since its launch, and the share price has decreased quite materially. However, I would note that the above isn't a representation of total return. That would include distributions that the fund had paid out. In that case, we are still positive on both NAV and price metrics. They had a very brief dip into negative total return territory on a price basis.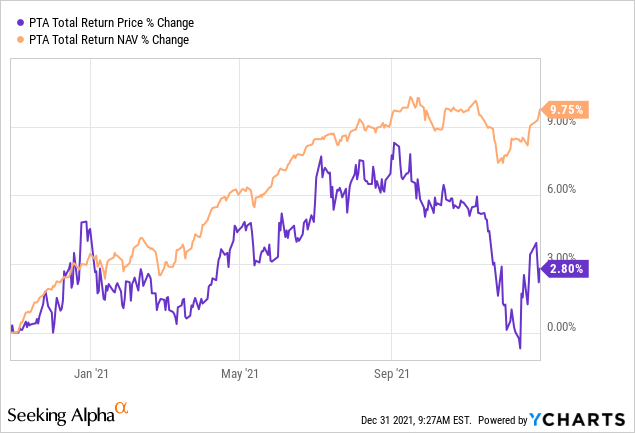 The fund's discount currently stands at 6.54%, representing a reasonably attractive valuation. It is in a much different situation than the next fund we will be discussing, though, which is a more established preferred fund.
I've been adding to PTA regularly as it has become the best value in the space. The last time was just as recently as November.
Flaherty & Crumrine Dynamic Preferred and Income Fund, Inc. (DFP)
DFP has once again become a position in my portfolio. This was through a Stanford Chemist swap trade idea that has been incredibly successful with the F&C line-up of funds. For this occasion, it came from selling Flaherty & Crumrine Preferred Income Opportunity Fund (PFO).
These F&C funds, over time, have performed quite similarly as they should have since they have considerable overlap in their portfolios. At the same time, market inefficiencies in the CEF space mean we can take advantage of the discount/premium mechanics.
DFP is the newer fund in the line-up from F&C, launching in 2013. The 5-year total return performances between DFP and PFO are shown below.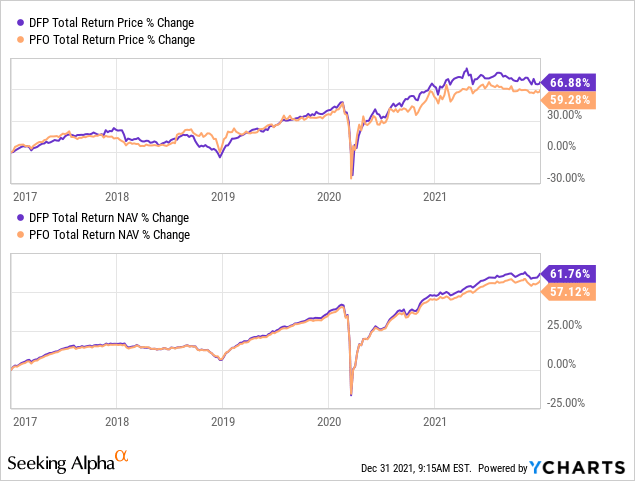 These funds have shown that they tend to be the best performing in the preferred CEF space over longer periods of time. That makes them a strong candidate for inclusion when you can get them at better deals or exploit the valuation differences by swap trades.
As I discussed above, PTA is the best value in the preferred space and appears to have bottomed out on its discount recently. However, since it is a newer fund, we don't have the same track record, which means it can still make sense to hold on to a more seasoned fund.
Conclusion
2021 was another stellar year for the market, delivering attractive returns in almost every asset class imaginable. At the same time, some market areas were weaker than others, and some had negative returns. Those were primarily the names that worked so well in 2020. I lean on the side of being almost a perma-bull, with eternal optimism.
It is just hard to refute that the market steadily increases over time. We make pit stops along the way, but as we hit record high after record high – with 2021 being the second most record highs after 1995 – it is just hard not to be optimistic. Therefore, while my expectations for next year might be more tempered, I think we finish 2022 higher once again.